Environmentally friendly insulation for over 30 years.
Our history starts way back in 1988, when Chairman Jon Stevenson created Westville. Over the previous fifteen years Jon had gained invaluable experience working in technical sales at Pilkington Insulation. Here he began to realise the growing importance of insulation products and the role they would play in the construction industry throughout the twenty first century. With a globally changing climate, increasing energy prices and decreasing energy resources, Jon very quickly identified a growing need to help mitigate these problems.
Initially, Westville's specialty quickly became retrofit cavity wall insulation, utilising mineral fibre which was originally manufactured by Pilkington's. However, over the last 30 years Westville have evolved considerably.
To date we have worked on over 130,000 projects and properties in both residential and commercial sectors. What started out as pre-dominantly retrofit to domestic housing, has now developed to encompass External/Internal Wall Insulation, Cavity wall Insulation, Loft Insulation, Rendering/Plastering applications, Cladding and Steel Frameworking to all types of construction clientele.
Westville now contract to homeowners, public sector organisations, commercial contractors, regional builders and national house builders but to name a few.
Geographically we have worked extensively across the UK and also locally within the Midlands and Yorkshire regions. When it comes to providing energy saving solutions within construction, we're confident there's no team more technically experienced than Westville.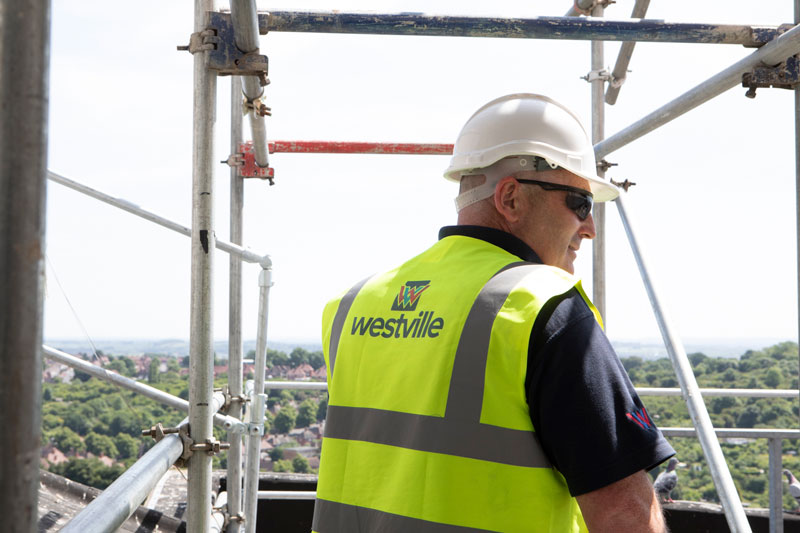 Number of homes insulated in the last 30 years
Tonnes of carbon saved in the last 30 years
Total amount (£) saved by residents in the last 30 years
With Westville, your property is in good hands.
Collectively we have over 250 years of product, insulation and customer service expertise, backed up by the many awards we have won over time, like the prestigious Insulation Association Awards for customer service and solid wall insulation.
We are ISO 9001 and in 2012 were one of the first companies in the United Kingdom to achieve the governments Pas 20:30 standard.
Our Health & Safety system has been assessed by and achieves SSIP standards and we have won a Green Award for our environmental systems through the Investors in the Environment (IIE) program.
Westville are proud to be founder members of the National Insulation Association (NIA) with our current managing director, Sean, sitting on the national council. We are also members of the Insulated Cladding & Render Association (INCA), our local Trusted Trader scheme and the East Midlands Chamber of Commerce.
The confidence we have in our workmanship is backed up by our commitment to offer a unique 'Westville Workmanship Guarantee' which we now supply on all projects undertaken.