100 mm sarking insulation 200mm EPS(180 below DPC) external wall insulation Intello membrane EPS insulation infill 150 mm Platinum EPS
Extension and radical retrofit to a 1960s dormer bungalow
Project Details.
When renowned architect Gil Schalom was commissioned to undertake an extension and radical retrofit to a 1960s dormer bungalow in Southwell Nottinghamshire, with a brief to turn it into an energy-efficient two storey 3 bedroom house, his thoughts immediately turned to an insulation supply with previous experience and expertise in the super insulation sector. Having successfully worked with Westville before, Gil had no hesitation in bringing Westville onto the team, instructing us to complete full external wall insulation, crisp white render and cedar cladding to the rear of the tired property.
The full retrofit involved extending the footprint of the house at the rear and the addition of two bedrooms upstairs. The upstairs bedrooms were designed so that both rooms were able to access a balcony area, benefiting from stunning views over to nearby Southwell Minster.
Insulation and Airtightness Strategies.
Roof: Full replacement of the roof, with thermal bridge-free detailing. 100 mm sarking insulation above rafters and 150 mm Rafter Roll 32 enhanced performance glass mineral wool insulation between rafters and service void below rafters. Warm flat roof with 150 mm PIR insulation over deck, finished with EPDM membrane.
Walls: Use of 200mm EPS(180 below DPC) external wall insulation throughout. Extension walls have Marmox Thermoblock thermal break below DPC. Windows & doors mounted in plywood box frames to project them outwards into the EWI zone. EWI wraps around frames 60 mm. Compacfoam breaks supporting the door cills. Splayed reveals to outward opening French doors, all others inward opening.
Floor: Insulation of the suspended timber floor at groundfloor level from below and all masonry walls received down stand insulation both sides below DPC; Intello membrane laid over entire existing floor boards with wall upstands plastered over.
New extension floor: constructed with Jetfloor concrete beams and profiled silver EPS insulation infill, with additional 150 mm Platinum EPS above and self-levelling screed above that.
Results.
Following completion the owners were delighted with the transformation, which achieved their objective of having a property that was now super energy efficient and suitable for whole of life use.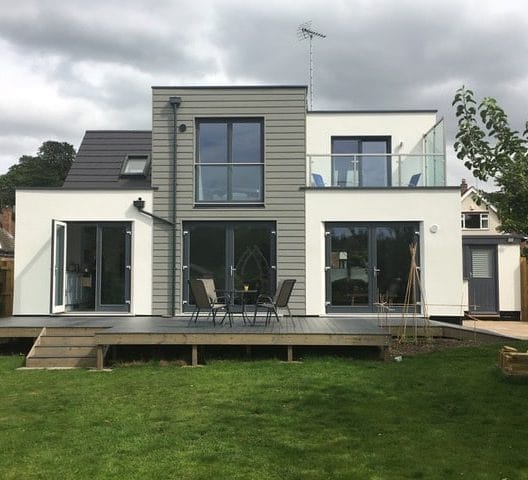 Recent projects by Westville
We've had the opportunity to work on some inspiring projects with some fantastic residential clients, businesses and local authorities.