Amber Valley Borough Council
90mm EPS system in line with SPS Envirowall Specifications
5 storey flats at Chatham Court, Newark
The Project.
To insulate and render a series of 5 storey flats at Chatham Court, Newark. Work carried out to a set of specification's provided by Newark and Sherwood Homes.
Challenges.
A change to the funding levels during the planning of this work made it appear unviable. Westville worked closely with Newark & Sherwood homes to identify other funding opportunities and potential savings by linking to other planned works on the flat roof.
As a result the residents ended up with a new roof, rendered wall insulation, new fascia boards and new rainwater goods, all delivered to the highest quality standards and on budget.
Results.
A fully qualified manager was enlisted on site at all times assisting with and supervising all scaffolding requirements.
Meetings were held to ensure all employees tasked with working on the project were fully aware of the risk assessments and method statements specific to the job.
On going health & safety inspections carried out to ensure compliance with Westville's stringent Health & Safety policy.
Outcome.
Westville carried out the insulation on the high rise flats utilising a 90mm EPS system in line with SPS Envirowall Specifications.
The dwellings were then rendered with a split system pebble dash finish. Following completion, all the flats achieved a U-Value of 0.3, down from a previous rating of 2.1. All inhabitants reported substantial improvements in warmth retention and considerably lower energy bills.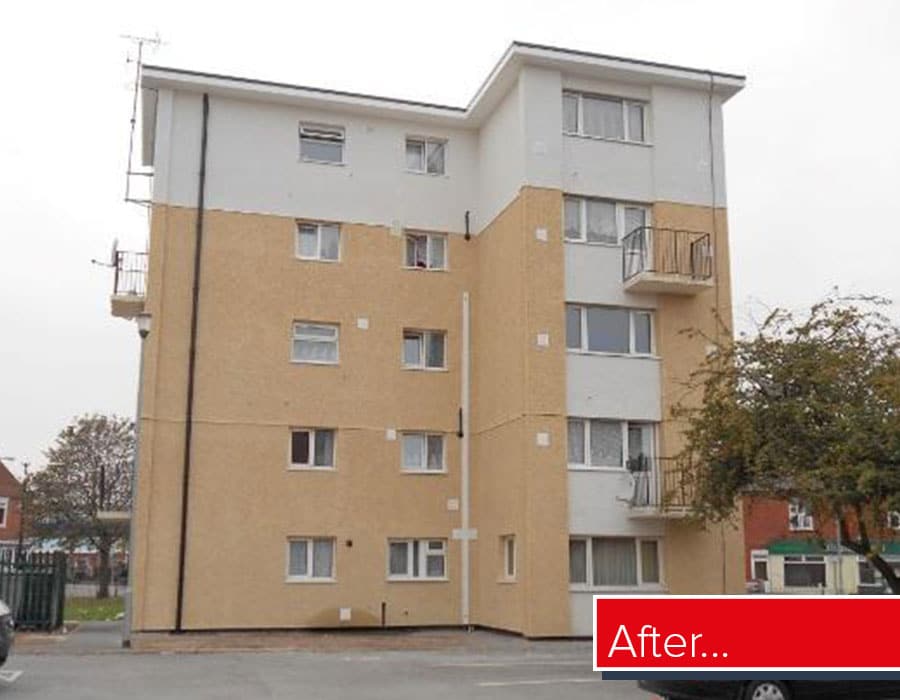 Recent projects by Westville
We've had the opportunity to work on some inspiring projects with some fantastic residential clients, businesses and local authorities.