Derbyshire Dales District Council
SPS Envirowall 90mm EWI System
Mix of airey and unity properties
Our brief, and Hurst Farm's history.
Built in the 1950s, just after the second world war, Matlock's Hurst Farm Estate was initially erected to provide housing for a large number of families in the area. Unfortunately, like many properties built around this time, they had been categorised as non-traditional construction dwellings. Many residents were now struggling to keep them warm and finding them very difficult to sell due to low market valuations on properties built in this manner.
Recognising these problems, Derbyshire Dales District Council allocated £100,000 of capital funding to support a regeneration project for Hurst Farm and approach Westville using an existing framework agreement.
The brief was to install External Wall Insulation (EWI) to the homes most in need, including 11 private households that would qualify for full government funding. This was made possible thanks to the District Council also obtaining planning permission on behalf of homeowners, with the Housing Department acting as the planning agent.
Challenges overcome at Hurst Farm.
Plans were drawn up to insulate priority homes with energy-efficient EWI from SPS. This product was chosen mainly for its energy-saving qualities and the added aesthetic character it would bring.
Work commenced in February 2020 but unfortunately had to be halted entirely due to the Covid-19 lockdown. During the time in lockdown, Westville developed safe working procedures in preparation for a return to work. The regeneration project resumed in May 2020, when deemed safe to do so. Social distancing procedures, track-and-trace and rigorous sanitisation practices were followed by everyone on-site. To ensure residents' safety, advice was given on how to remain safe while work was completed.
Results.
Westville completed all eleven homes with 90mm EWI Envirowall and finished the look with a stunning render. There was great feedback from all the residents, with many surprised by the new appearance. Some residents remarked that it felt like they had moved into a brand new home. The improvements will last for many years and benefit the residents with noticeable energy efficiency, warmth and comfort, particularly in colder conditions.
Westville recieved a fantastic rating of 4.9/5 after a survey response from 9 residents that recieved work as part of the regeneration project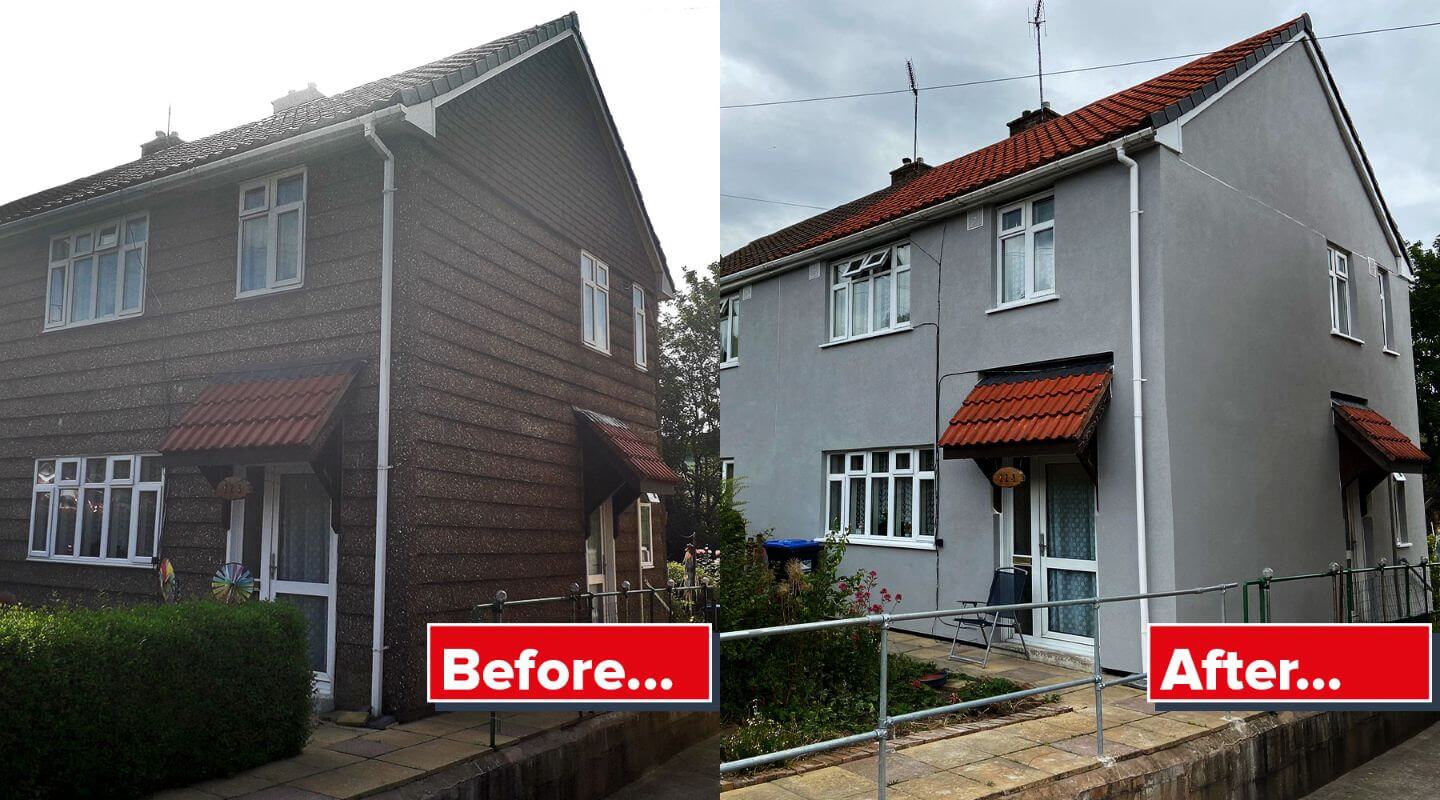 Recent projects by Westville
We've had the opportunity to work on some inspiring projects with some fantastic residential clients, businesses and local authorities.