SPS Envirowall 130-180mm Mineral Wool Insulation 1.5mm EnviroSil Coloured Render
Our brief, and Romorantin Place's history.
Boarded up and derelict for over several years, Romorantin Place was definitely in need of some love and attention. Commissioned by United Living, we were asked to install external wall insulation and render to the twenty nine formally decommissioned bedsits, that make up this Long Eaton project.
Challenges overcome at Romorantin Place.
Being part of a much more extensive program, which also included a full internal restoration, Westville was mindful of the joint management responsibilities needed to make this renovation as seamless as possible. Constant meetings were held with all parties involved to ensure that each contractor was able to work to maximum efficiency.
Results.
Westville successfully installed SPSenvirowall's System 2 with 130-180mm mineral wool insulation and an eclectic mix of 1.5mm EnviroSil colours, from beige through to red. This delivered a dramatic and warm appearance to the local area.
The system is ideally suited for the refurbishment of social housing, as it is designed to provide cost-effective robust external wall insulation. It will also offer savings to both the landlord and tenants and protect the basic fabric of the building.
The EnviroSil silicone topcoat applied creates a smooth rendered finish, providing the customer with a more aesthetically pleasing dwelling. It will also help the building's façade maintain its cleanliness, through its outstanding self-cleaning and highly water repellent silicone properties.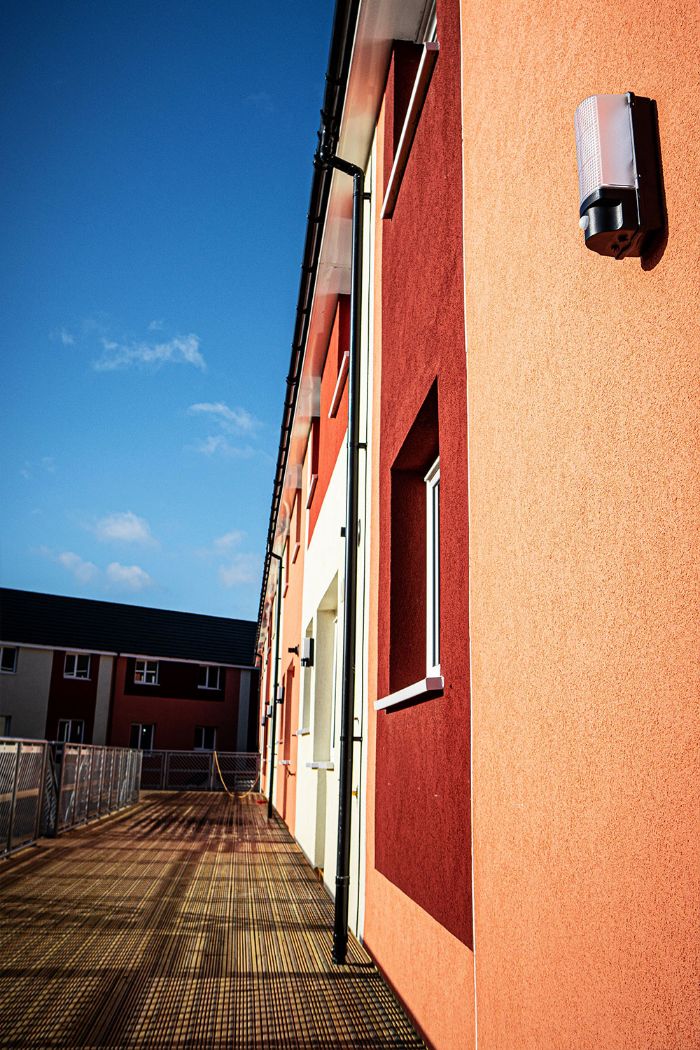 Recent projects by Westville
We've had the opportunity to work on some inspiring projects with some fantastic residential clients, businesses and local authorities.