Here at Westville, one of the main questions we get asked day to day is "what will my house look like when it's rendered?"
And the answer to that? Well, the answer is it can look however you want it to look!
With so many developments in materials over the years, rendering is no longer just a new paint job, in fact, it can cater to so many different styles, all of which are guaranteed to give your home a fantastic new look.
Below are some of the most popular types of rendering that we can offer.
Pebble Dash Rendering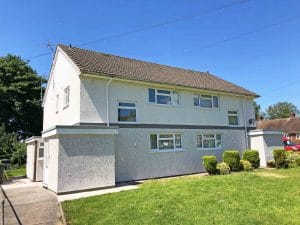 The high-quality finishes that we offer are as beautiful as they are varied, with the classic Pebble Dash render that provides a textured and hard-wearing style to your property that will leave your neighbours jealous! See how we applied Pebble Dash to a range of house, flats, and bungalows at Bestwood Road Estate in Hucknall.
Textured Rendering
If you are after a clean, contemporary finish, then the Textured render could be right for you. Available in a multitude of colours, the possibility of customising is as easy as it is eye-catching. This Textured finish has completely transformed an old and tired house in Bilborough, Nottingham.
Brick Effect Rendering
If you are looking for a more traditional brick look to your property but don't want all the hassle of having to tear down the walls and re-lay with new bricks, then the Brick Effect render is ideal for quickly and easily applying a stunning finish without all the hard work. We applied a stunning Brick Effect finish to a large-scale insulation programme in Atherstone, North Warwickshire here.
Brick Slips Rendering
Finally, the Brick Slips finish can give your property a crisp, clean and contemporary look, perfect for matching with modern, high-tech doors and windows without looking out of place. This was the case with our work on Hollybank Road, Birmingham to transform some tricky blocks of flats from tired generic concrete housing to the pride of the area.
Of course, many contractors and property owners don't just settle for just one product. All of our rendering finishes can be 'mixed and matched' unlocking the visual potential of the property by contrasting the finishes off each other to create an absolutely stunning and unique look that will turn heads and create talking points in your neighbourhood! We work closely with all our partners to make sure that the finishes that either you, the contractor or the architect choose will be the right ones for the project and we will be able to advise with confidence on how that impacts the overall feel.
Rendering a House Before and After
One of the reasons that rendering a house is so popular is the amazing facelift it can give to the property.
A simple render job can transform a tired-looking property into something modern, stylish and eye-catching – increasing the value of the property at the same time.
See below for some of the fantastic "Before and After" transformations from rendering work that the Westville team have carried out.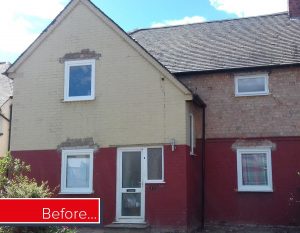 For more information regarding the rendering process, what your house could look like rendered, or the work that the Westville team do, please don't hesitate to contact us today on 0800 1583605 or send us a message and we will be more than happy to help.