Amber Valley Borough Council
External Wall Insulation and Render
Deep retrofit of a 1930s Arts & Crafts house
Project Details.
When architect Gil Schalom was called upon to develop a 'whole house plan' for the deep retrofit of a 1930s Arts & Crafts house in Nottingham, he concluded that work could be implemented in two discrete phases.
This step-by-step approach to retrofit is becoming increasingly popular as a way to make undertaking a radical retrofit affordable and achievable over a period of time. However, particular care is needed during this process to ensure that the first phase does not cause any unintended consequences from any of the initial energy efficiency measures implemented.
The Work.
Following consultations Westville were once again keen to work with Gil on this Super Insulation project, providing all External Wall Insulation and associated products. Working closely with Gil, a £100K budget and a handful of other sub contractors phase one covered:
The addition of a rear single storey extension.
Replacement of windows and doors in rear and side elevations with triple glazed timber.
Applications of external wall insulation (EWI) to the rear and side elevations.
To avoid having to extend the roof to accommodate the 200 mm of EWI, the EWI is chamfered back to 100 mm to fit under the roof overhang with the metal rain pipes contoured to follow the shape.
EWI was also extended down into the ground around the house down to the footings to minimise thermal bridging.
Extension walls 140 mm solid concrete blockwork behind EWI. Marmox thermal break and thermal grade blockwork below DPC of extension. Insulation of 2/3rd of the ground floorby taking up existing suspended floor and laying 300 mm EPS insulation between new concrete slab and screed with 100 mm down stand insulation against the walls. Underfloor heating was embedded in the screed. Tile finish including new wet room shower floor.
Extension roof.
Clay interlocking tiles over battens, counter battens, taped Solitex Plus wind tightness intelligent underlay, 100 mm PIR sarking insulation over rafters, fixed with helical fixings through counter battens into rafters, 200 mm rafters fully filled with Rafter Roll 32 enhanced performance glass mineral wool. 12 mm OSB under supporting Intello Plus intelligent air tightness membrane / vapour control layer followed by battens forming service void and plasterboard with skim finish.
Installation of a MVHR system to help prevent condensation issues in the partially-insulated house.
Airtightness measures of Pro Clima membranes with taped edges and wet plaster to 2/3rds of house. All new windows and doors taped inside and out with Pro Clima tapes. Existing walls' wet plaster was extended down to floor. First floor joist bearings were taped and the joist zone walls parged.
Installation of a small room-sealed wood burning stove at clients' request. Other chimneys taken down below roof level, filled with Vermiculite insulation and capped with insulated board.
Loft insulation upgraded to 400 mm glass mineral wool
Replacement Fakro U6 skylight to loft room.
Solar PV to rear (west facing) roof face, with Solic 200 hot water dump into new cylinder, to reduce use of new gas boiler.
Results.
Reflecting on the completion of phase one Gil made some intriguing comments: "What has been really interesting is the palpable difference in comfort levels between the treated and untreated parts of the house. Even though the MVHR serves both parts, in winter it feels like walking into an entirely different climate. The completed part is appreciably warmer, the air is stiller and the sense of comfort and wellbeing is appreciably improved, and that transition happens sharply at the threshold."
This project really shows the value of EWI and the effects of super insulation. Which this space for progress an update on the completion of phase two.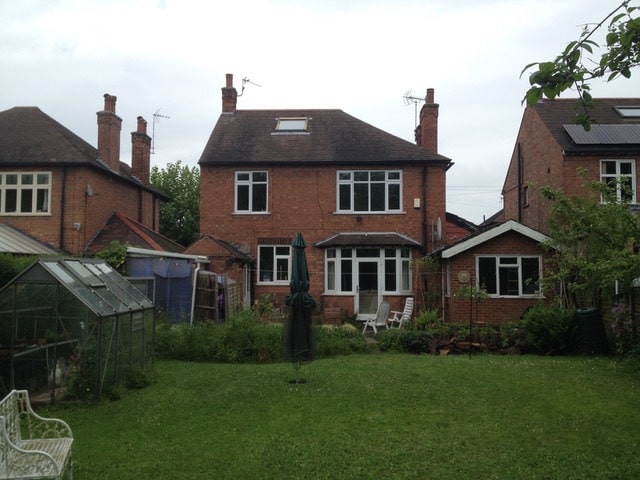 Recent projects by Westville
We've had the opportunity to work on some inspiring projects with some fantastic residential clients, businesses and local authorities.